THE CONNIE DAVIS WATSON FOUNDATION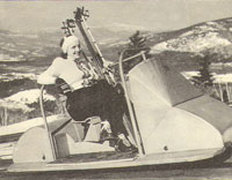 THE CONNIE DAVIS WATSON FOUNDATION (CDWF)
is a private foundation serving only the communities of North Conway, Kearsarge, and Intervale. The Foundation will award grants to community organizations in those towns, with the Pequawket Foundation trustees serving in an advisory capacity to the trustee of the Connie Davis Watson Foundation.
Through a substantial bequest from the estate of Connie Davis Watson that was announced in January of 2003, Connie's commitment to the communities of North Conway, Kearsarge and Intervale will endure.
Connie Davis Watson was a longtime member of the Mount Washington Valley community and over her long life was a model, artist, ski instructor, wife, mother, civic-minded business leader, volunteer and philanthropist. Her second husband, Ernest C. Watson said that, "Her final wish was to leave something to North Conway, Kearsarge, and Intervale for the enjoyment and benefit of others, because she loved the area so deeply."
As the foundation's trustee stated, "Connie's wishes would be best met if the bulk of her grants went to fund a few significant projects rather than many smaller ones ...major projects that would have a long-term impact on the community".
Grants can be proposed for substantial and worthwhile projects and programs in the service area. To apply, please go to the Pequawket Foundation
Apply for a Grant page
, download the cover sheet and be sure to indicate that the application is for the CDWF. The completed cover sheet and attachments should be emailed to
info@pequawket.org
.
---
THE BILL AND ESTHER LEVY SCHOLARSHIP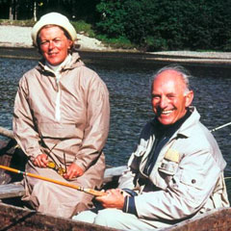 THE BILL AND ESTHER LEVY SCHOLARSHIP is open to Kennett High School seniors only. It has the potential to be renewable for four years and can be used at any college or university. The amount granted can be equal to the tuition at UNH (excluding room and board), but may be less. Since its inception in 2004, the fund has made more than $1,454,000 in scholarship awards.
Bill and Esther Levy owned and operated the Yield House in North Conway for over a half century and were involved as community leaders in many civic projects. Bill was a founding member of the Pequawket Foundation. When the Levys died, they made a scholarship bequest to the Pequawket Foundation, which partners with the
New Hampshire Charitable Foundation
to invest and administer the funds.
"He could have left his money to anything," said Stefi Hastings, whose father, Carroll Reed, was a longtime friend of Bill Levy's.
"For him to leave it in such a smart way to preserve the principal so it would go on forever to help these local kids," she said, "is an ongoing gift to generations in the Mount Washington Valley."
For more information and to download an application, go to:
http://www.nhcf.org/page.aspx?pid=483
Applications and information for this scholarship will also be available in the guidance department at Kennett High School in the winter of each year.
---